Posted December 30th, 2014 by
James DeWolf Perry
Category:
News and Announcements
,
Public History
Tags:
Best Practices in Slavery Interpretation
,
Interpreting Slavery
,
James DeWolf Perry
,
Kristin Gallas
,
Northern slavery
,
slavery
,
Tracing Center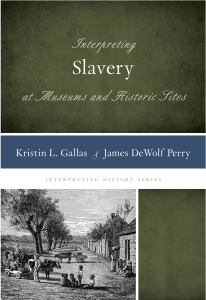 Update: Interpreting Slavery is now back in stock at Amazon.
We're pleased to announce the release of the Tracing Center's new book, Interpreting Slavery at Museums and Historic Sites (Rowman & Littlefield, 2014).
"This seminal work … will make a significant impact."

— Rex M. Ellis, Associate Director, Smithsonian National Museum of African American History and Culture
Interpreting Slavery, edited by Kristin Gallas and James DeWolf Perry, is the most visible product to date of a three-year Tracing Center project to develop and disseminate best practices in slavery interpretation. This project has also included surveys of the field, workshops at historic sites and museums, conference presentations and instructional sessions, as well as additional publications.
The book is a collaboration with seven leading public historians with deep expertise in navigating the interpretation of slavery:
Dina A. Bailey, National Center for Civil and Human Rights
Patricia Brooks, National Endowment for the Humanities
Richard C. Cooper, National Underground Railroad Freedom Center
Conny Graft, Conny C. Graft Research and Evaluation
Linnea Grim, Monticello
Katherine D. Kane, Harriet Beecher Stowe Center
Nicole A. Moore, Museum Educator and Historic Consultant
Interpreting Slavery at Museums and Historic Sites aims to move the field forward in its collective conversation about the interpretation of slavery—acknowledging criticism of the past and acting in the present to develop an inclusive interpretation of slavery. Presenting the history of slavery in a comprehensive and conscientious manner requires diligence and compassion—for the history itself, for those telling the story, and for those hearing the stories—but it's a necessary part of our collective narrative about our past, present, and future.
Read the rest of this entry »