Posted September 14th, 2010 by
James DeWolf Perry
Category:
Repair and reparations
Tags:
Barack Obama
,
Goodwin Liu
,
Judicial nominations
,
Reparations for slavery
,
Traces of the Trade
James DeWolf Perry is a regular contributor. He appears in the film Traces of the Trade and is the Tracing Center's interim managing director and director of research. This entry is cross-posted from James' own blog, The Living Consequences, and the opinions expressed are his own.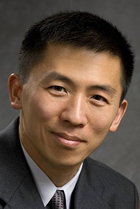 The White House announced late yesterday that President Obama has re-nominated Berkeley law professor Goodwin Liu to the U.S. Court of Appeals for the Ninth Circuit.
Professor Liu's nomination became controversial when it was discovered that he had addressed the subject of reparations for slavery on a panel following a special screening of our documentary, Traces of the Trade: A Story from the Deep North, in Washington, D.C. in 2008. Liu's scholarship has also drawn considerable attention for its intellectual heft and for what conservative senators have declared to be a left-leaning philosophical approach to the law.
Professor Liu was originally nominated to the appellate judgeship in February, and passed the Senate Judiciary Committee on a 12-7 vote. His nomination expired, however, when the Senate recessed in August without having held a full vote.
Professor Liu's nomination, along with several others who were re-nominated yesterday, must now pass the Senate Judiciary Committee again. A committee meeting has been scheduled for Thursday at which these nominations will be discussed.