Posted June 19th, 2016 by
James DeWolf Perry
Category:
History
Tags:
13th Amendment
,
California
,
Delaware
,
Emancipation
,
Juneteenth
,
Kentucky
,
New Jersey
,
Oregon
,
U.S. Civil War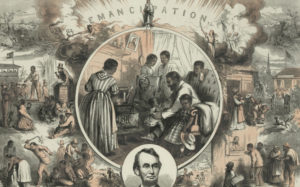 Today, June 19, is widely celebrated as Juneteenth, which marks the day in 1865 when Union troops arrived in Galveston, Texas, bringing word that the Civil War had ended and the enslaved population was free. This is a joyous occasion, one which acknowledges the horrors of slavery, but commemorates the jubilation with which the first word of freedom was celebrated at many  times, and in many places, throughout the United States.
Yet at the time of this first Juneteenth, slavery had not yet been abolished throughout the United States, even by law. That momentous occasion wouldn't occur until ratification of the 13th Amendment on December 6, 1865, more than half a year after the surrender of Confederate forces as Appomattox.
Where in the U.S. did slavery manage to persist after Juneteenth had come and gone? The answer, and even the sheer number of places, may surprise you.