The following is a list of Tracing Center programs, including dialogues and film screenings, as well as other events offered by Tracing Center affiliates. We also list screenings of our documentary, Traces of the Trade, offered by other organizations when we are aware of them.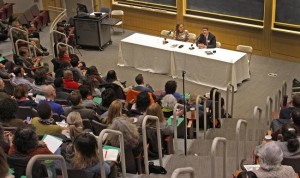 If you are interested in arranging a screening, dialogue, or other program about the history of slavery and/or the legacy of slavery, race, and privilege, please contact us at
Screenings and events in 2018 and beyond

The following events are open to the public, unless otherwise noted. For events in calendar year 2017 and earlier, please see the links in the upper-right-hand corner of the page.
January 14, 2018, 6:00pm, Church of Reconciliation, San Antonio, Tex. The church would like attendees to RSVP by January 12.