Posted April 11th, 2012 by
James DeWolf Perry
Category:
Living consequences
Tags:
Racial discrimination
,
Segregation
,
Swimming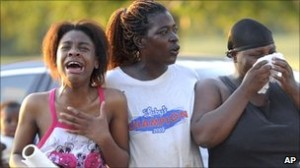 James DeWolf Perry is the Tracing Center's executive director. This entry is cross-posted from James' own blog, The Living Consequences, and the opinions expressed are his own.
Why don't black Americans swim?
This is the provocative headline of a BBC News story, and it would be easy to misinterpret the BBC's meaning. This is, after all, a sweeping generalization, and one which has been a racial stereotype in the United States for many generations.
However, the BBC reporter cites credible statistics to support the widely-held belief that swimming is, in fact, nowhere near as common among black Americans as it is among white Americans.
More importantly, the article argues that this situation arises out of the nation's painful legacy of slavery and race and has deadly consequences.