Posted June 29th, 2013 by
James DeWolf Perry
Category:
History
Tags:
Birmingham
,
Bull Connor
,
Civil rights movement
,
Golf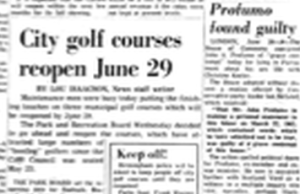 Fifty years ago today, on June 29, 1963, the city of Birmingham, Alabama re-opened its municipal golf courses, making them available for the first time to both white and black citizens.
In October 1961, a federal district court had ordered the integration of Birmingham's public recreation facilities, holding that their  segregation along racial lines was unconstitutional. This plan met with resistance from the city's commissioner of public safety, Bull Connor, who is best known to history for the use of police dogs and fire hoses against civil rights demonstrators. Connor announced that he intended to close some 67 city parks, 38 playgrounds, 6 swimming pools, and 4 golf courses, and even the city's football stadium and, if necessary, to sell them all to private citizens rather than accept the court's integration order.