Posted June 11th, 2013 by
James DeWolf Perry
Category:
Public History
Tags:
Civil Rights Act of 1964
,
Civil rights movement
,
George Wallace
,
John F. Kennedy
,
Medgar Evers
,
University of Alabama
Today marks the 50th anniversary of two major landmarks in the civil rights movement: George Wallace's "stand in the schoolhouse door" over desegregation at the University of Alabama, and President Kennedy's address to the nation announcing what would become the Civil Rights Act of 1964.
"The Stand in the Schoolhouse Door"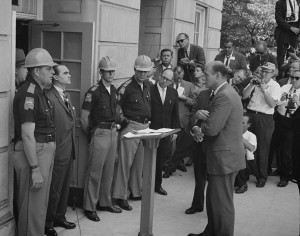 On the morning of June 11, 1963, Governor George Wallace of Alabama personally and physically intervened, in front of television cameras, to attempt to block the desegregation of the University of Alabama in Tuscaloosa.
The deputy attorney general of the United States, Nicholas Katzenbach, was present in person to request that Wallace step aside. When that request was rebuffed by the governor, General Henry Graham of the Alabama National Guard, having been federalized by President John F. Kennedy, ordered the governor to stand aside. Wallace complied, after first complaining to the news cameras about this "unwelcomed, unwanted, unwarranted and force-induced intrusion" by the federal government on the affairs of Alabama.