Posted August 24th, 2015 by
James DeWolf Perry
Category:
News and Announcements
,
Outreach
,
Public History
Tags:
Episcopal Church
,
James DeWolf
,
Providence
,
Rhode Island
,
Slave trade
,
Traces of the Trade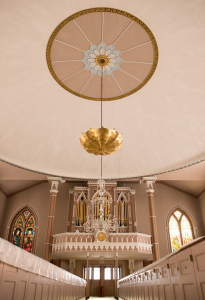 Today the New York Times is running an article on our partnership to create a Center for Reconciliation in the Episcopal cathedral in Providence, R.I.
The article, by Katharine Seelye, is headlined "Rhode Island Church Taking Unusual Step to Illuminate Its Slavery Role." Seelye discusses our plans to offer a museum interpreting slavery and the slave trade in Rhode Island, and the North, with emphasis on the historical complicity of the entire nation, including the Episcopal Church, in the institution of slavery. She also talks about our intent to offer programming and community activities aimed at educating the general public and fostering dialogue, healing, and reconciliation.
The article details how the DeWolf family's efforts to illuminate their slave-trading past in Rhode Island, including Katrina Browne's PBS documentary, "Traces of the Trade," have helped to inspire the Episcopal Diocese to put forward the idea for the Center for Reconciliation.