Posted April 1st, 2013 by
James DeWolf Perry
Category:
Living consequences
,
Repair and reparations
Tags:
legacy of slavery
,
Racial prejudice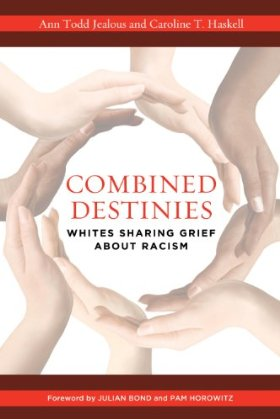 This post is about Combined Destinies: Whites Sharing Grief About Racism (2013), a new book we haven't read yet at the Tracing Center, but which we learned about this weekend from author Sharon Morgan and which we're eager to get our hands on.
(Sharon, for those who don't know, is co-author, along with Tom DeWolf, of Gather at the Table: The Healing Journey of a Daughter of Slavery and a Son of the Slave Trade.)
Combined Destinies, edited by Ann Todd Jealous and Caroline Haskell, is an anthology exploring the impact of racism on the lives of white people. The authors, both psychotherapists with experience facilitating dialogue on race, seek to begin a conversation about the impact on white people of the racist ideology created by their ancestors, in order to advance anti-oppression work and to contribute to individual and societal healing.
The book's chapters focus on issues such as guilt, shame, and silence in the lives of white Americans, and are written for a wide audience, including lay people as well as counselors and mental health professionals. The chapters include the words of white people telling their own stories, often for the very first time.