Posted December 16th, 2014 by
James DeWolf Perry
Category:
History
Tags:
Battle of Nashville
,
Civil War
,
Emancipation
,
Emancipation to Equality
,
U.S. Colored Troops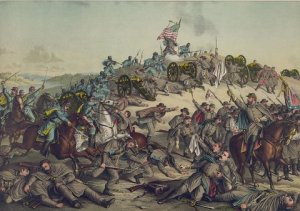 Today marks the 150th anniversary of the Battle of Nashville, which, between December 16-17, 1864, broke General John Bell Hood's Confederate Army of Tennessee and left Tennessee in Union hands for the duration of the war.
In a military sense, the 13th United States Colored Troops, despite their bravery and sacrifice on the first day of the battle, "contributed nothing to the Union victory." Yet this African American regiment achieved something "virtually unheard of in the war" with their courage and sacrifice: they "not only earned the awed respect of white Union troops who witnessed their efforts; they also garnered heartfelt praise from an opposing Confederate general in his official report."
The 13th U.S.C.T. was comprised of 20 officers and 556 men, most of whom had been enslaved in northern Tennessee until Union forces arrived in 1862. Ordered to assault Overton Hill during the battle, after many white Union regiments had failed, the 13th U.S.C.T. was quickly slaughtered by the Confederate troops defending the hill. Yet in undertaking this task as if with "a charge into hell itself," these freed slaves, untried in fierce combat, won in their deaths the admiration of friend and foe alike.
Confederate Brigadier General James T. Holtzclaw, in command of Confederate troops defending Overton Hill, put in his official report:
The enemy made a most determined charge on my right. Placing a negro brigade in front they gallantly dashed up the abatis … and were killed by hundreds … they continued to come up in masses to the abatis, but they came only to die.
As impressive as it was for the men of the 13th U.S.C.T. to win the admiration of a Confederate general, their influence on their fellow Union troops was even more important. After all, most northerners had not been in favor of abolition when the Civil War began, and even now, had questions about whether blacks preferred freedom to slavery, much less whether they were willing and able to fight and sacrifice in the cause of freeing others. Thus is it highly significant that after a battle such as this, a Union surgeon was moved to write home:
Don't tell me negroes won't fight! I know better.
Also impressed was George Lewis, a Union officer with the 124th Ohio:
I never saw more heroic conduct showed on the field of battle than was exhibited by this body of men so recently slaves.
As our "Emancipation to Equality" campaign emphasizes, the emancipation of our nation's slaves wasn't brought about primarily through the actions of a few white elites, or even the broad mass of the northern public. Instead, emancipation was made a reality by the grassroots actions of millions, most of them free or enslaved African Americans whose determined actions brought about freedom for themselves or others, and in the process gradually altered white opinion in the North. Only in this way would emancipation be (barely) adopted as official policy by Union representatives in Congress in early 1865, as the Civil War was drawing to a close.