Posted July 11th, 2014 by
James DeWolf Perry
Category:
Living consequences
Tags:
Barack Obama
,
Elections
,
Racial prejudice
,
Voting behavior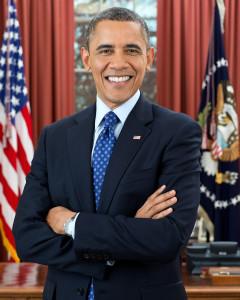 There are two new studies out on public opinion and voting behavior which shed light on persistent questions about how much racial prejudice hurts black politicians, and in particular, President Obama's approval ratings and his vote totals in the 2008 and 2012 presidential elections.
The first new study, "The cost of racial animus on a black candidate," by Seth Stephens-Davidowitz and slated for publication in the October 2014 issue of the Journal of Public Economics, asks a relatively simple question: how much did racial prejudice affect Barack Obama's vote share?1
Stephens-Davidowitz offers a new way to estimate the "racial animus" of voters, and thus of the vote share that President Obama lost simply because he was black. The paper estimates an area's racial animus using data from Google on search queries using racially-charged language, which has the advantage of not relying on people's honesty in answering survey questions which probe for racial prejudice. This measure finds 1.5 to 3 times as much racial animus as traditional surveys do. Stephens-Davidowitz then compares an area's racial animus against the change in vote share between Kerry in 2004 and Obama in 2008 and 2012.
The result? Stephens-Davidowitz finds that racial animus among U.S. voters cost Barack Obama about four percentage points in the national vote in both 2008 and 2012.
The other new study, by Josh Pasek, Tobias H. Stark, Jon A. Krosnick, Trevor Tompson, and B. Keith Payne, is "Attitudes Toward Blacks in the Obama Era: Changing Distributions and Impacts on Job Approval and Electoral Choice, 2008–2012," available in a special summer issue of Public Opinion Quarterly.2
This paper asks a more complicated question: how has the election of a black president impacted racial prejudice in the United States, how has having a black president changed the connection between anti-black sentiment and the approval ratings and vote shares of black candidates, and how did these factors affect the impact of racial prejudice on President Obama's vote share in 2012?
Pasek et al. find that between 2008 and 2012, prejudice towards blacks became increasingly disconnected from presidential approval ratings and voter choices at the polls. In other words, those exhibiting anti-black sentiment were less likely to express disapproval of President Obama for that reason, or to vote against him because of prejudice, after experiencing him as president.
Ordinarily, this would suggest that anti-black prejudice would have had less of an impact on President Obama's share of the vote during the 2012 election.
However, the authors of this study also note that between 2008 and 2012, there was a significant rise in anti-black sentiment in the United States, perhaps also as a result of the experience of the nation's first black president. As a result, these two factors—the decoupling of prejudice from voting behavior, and increased racial animosity among voters—canceled each other out, and prejudice against blacks seems to have reduced the president's vote share in 2012 by about the same amount as in 2008. (Thus explaining the conclusion of the first study, that racial animus impacted Obama's vote share about equally in the two elections.)
Seth Stephens-Davidowitz, "The cost of racial animus on a black candidate: Evidence using Google search data," Journal of Public Economics 118: 26-40 (2014). [↩]
Josh Pasek, Tobias H. Stark, Jon A. Krosnick, Trevor Tompson, and B. Keith Payne, "Attitudes Toward Blacks in the Obama Era: Changing Distributions and Impacts on Job Approval and Electoral Choice, 2008–2012," Public Opinion Quarterly 78:S1 (2014): 276-302. [↩]